We believe that the Church has a mandate to care for the materially poor. At DAC, we take this seriously which is why we love to support and partner with Montgomery County Coalition for the Homeless which has a vision "to end homelessness in Montgomery County by building a community where everyone has a safe, stable, and affordable place to call home."

Click the image above for more information on MCCH and to find ways you can get invovled!
Updates:
March 3, 2017 - Hot Meals
We are taking our partnership with Montgomery County Coalition for the Homeless and kicking it up a notch by providing a hot, personally served meal to the clients at the men's emergency shelter every second Sunday evening of the month.
January 26, 2017
Beth Campbell and Lucrecia Munson have been organizing the monthly bagged breakfasts for the men's emergency shelter. Beth is moving out of that role, and we are so grateful for her time of service! Sarah Luse has stepped in to partner with Lucrecia in this ongoing initiative.
Click here for an insightful video describing the importance of these meals!
Luz Ragland will be heading up another layer of our service at the men's emergency shelter. Starting in March, we are going to try providing a monthly hot meal that we serve to the men ourselves. Keep an eye out for more details.
In addition to the gifts we collected at Christmas, Laura Hessler and Jen Ashby spent a morning in December at the MCCH offices wrapping and labeling gifts with other volunteers from the community.
Luz Ragland, Lucrecia Munson, and Jen Ashby assisted with the Point in Time (PIT) Count on January 25 at the men's shelter. This nationwide, annual data collection is crucial to funding and serving people experiencing homelessness.
MCCH continues to use the DAC property periodically for training events and meetings.
November 3, 2016 - Local Holiday Giving
As part of our partnership with Montgomery County Coalition for the Homeless, we invite you to sign up to purchase one or more items for people in shelters/supportive housing in our county. Follow the instructions for labeling, and deliver directly to MCCH, or to DAC by Sunday, December 11.
You can also sign up to wrap gifts at MCCH.
September 8, 2016 - The Next Step for James & Megan and Their Family
Who can forget James and Meagan, two formerly homeless individuals we had the privilege of moving into their own apartment in October 2015 through our partnership with Montgomery County Coalition for the Homeless. Then in March 2016, we were delighted to provide the funds for their marriage license, and to host their wedding reception. Because of their increased stability, Meagan's elementary age daughter is now being placed back in her care, and is coming to live with them. That means moving into a bigger apartment, and an additional need: MCCH already has a twin bed frame for Meagan's daughter, but she needs a (new) twin mattress and box springs. If you would like to provide in this way, contact Jen Ashby at
jen.ashby@derwoodalliance.org
by Monday, September 12, and please be praying for this family!
July 20, 2016 - Back to School Fair
Sign up and donate school supplies for the 300 children that are in the MCCH programs! Please drop off your donations at the church office by August 10th at 12pm or give your donations directly to the MCCH office by August 12th.
Click Here to Sign Up
June 13, 2016 - MCCH Walk & Meeting Anthony
On June 5th, we hosted our second Community Walk for MCCH! Prior to our walk, we had the great privilege of hearing from Anthony, a current resident of the Home Builders Care Assessment Center, the men's shelter located on Gude Drive.
Click here to listen to Anthony's story.
Below you will find some pictures from our walk! It may have been a little humid that day, but it was a great day to raise funds (total of $2318) and awareness!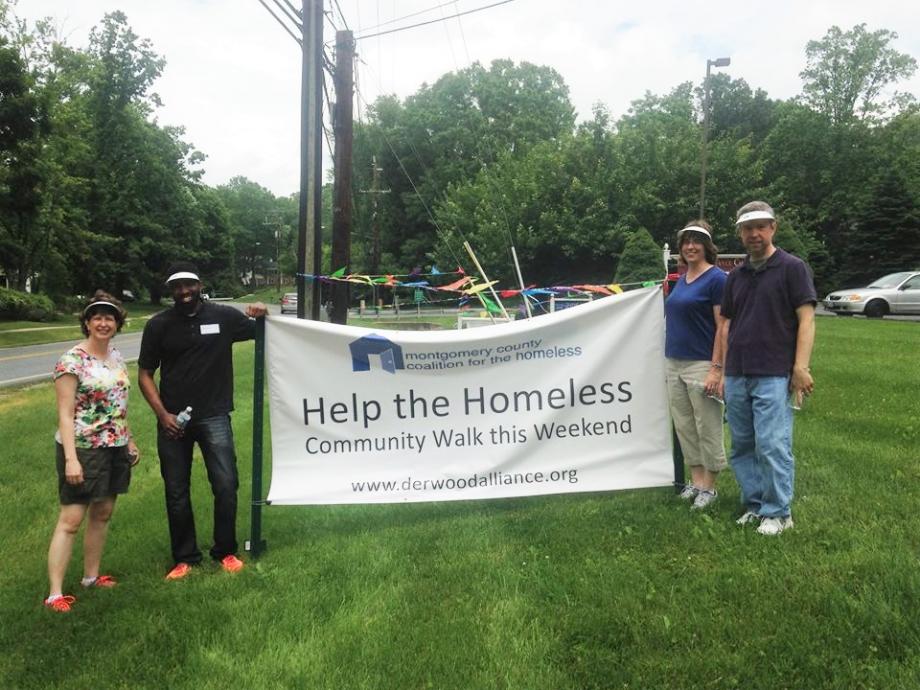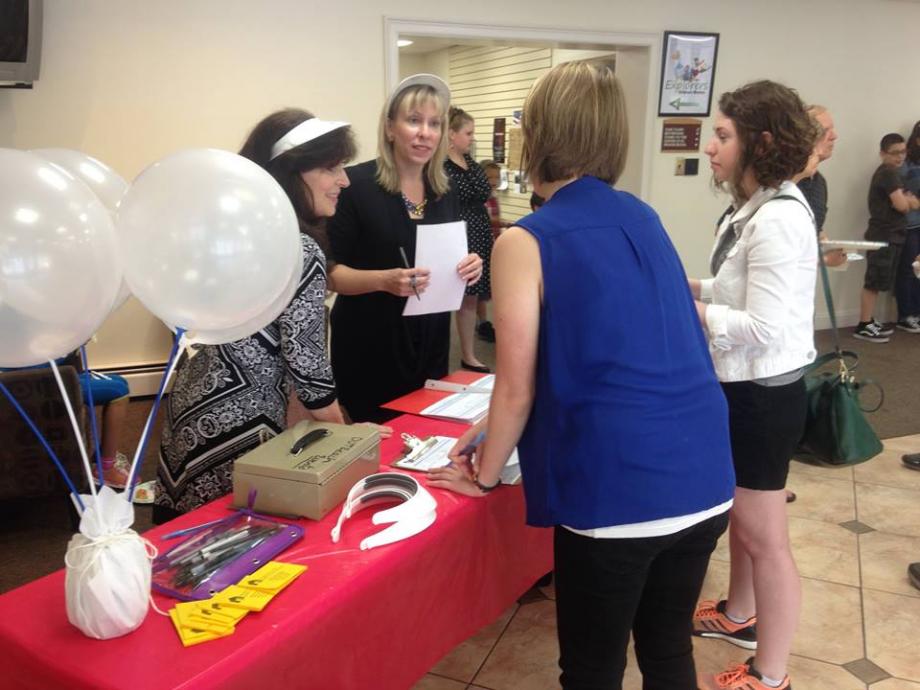 (Left to right: Jen, Anthony, Wendy & Jeff)
April 25, 2016 - MCCH Gala & Wedding Reception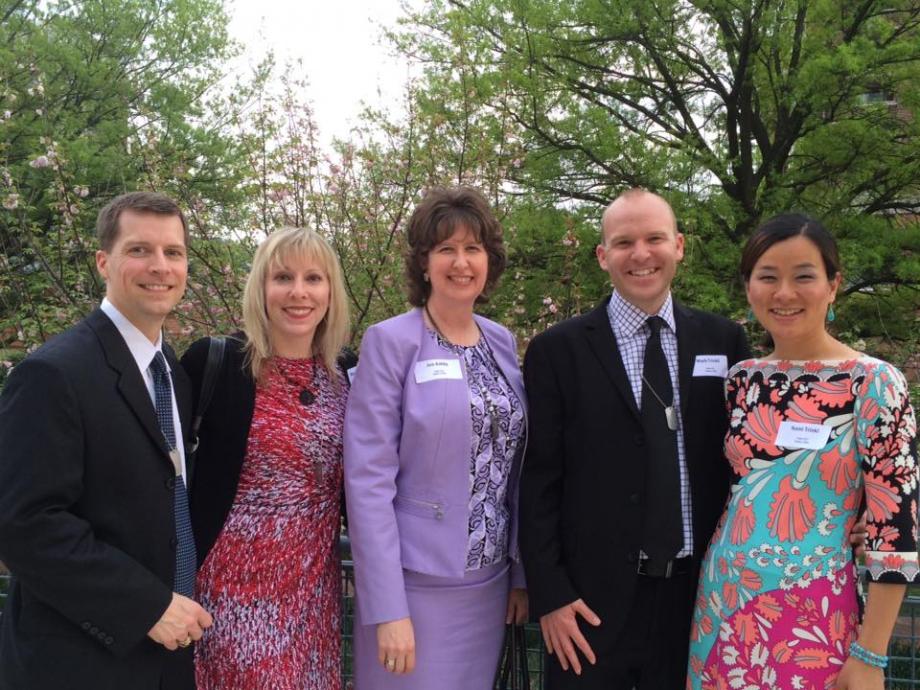 Representing DAC at the
Montgomery County Coalition for the Homeless
Gala on Thursday, April 21st were Mark and Melanie Neely, Jen Ashby, Pastor Mark and Nami Trinkl. They had a great night with 400 others from the community celebrating the end of Veteran homelessness in our county!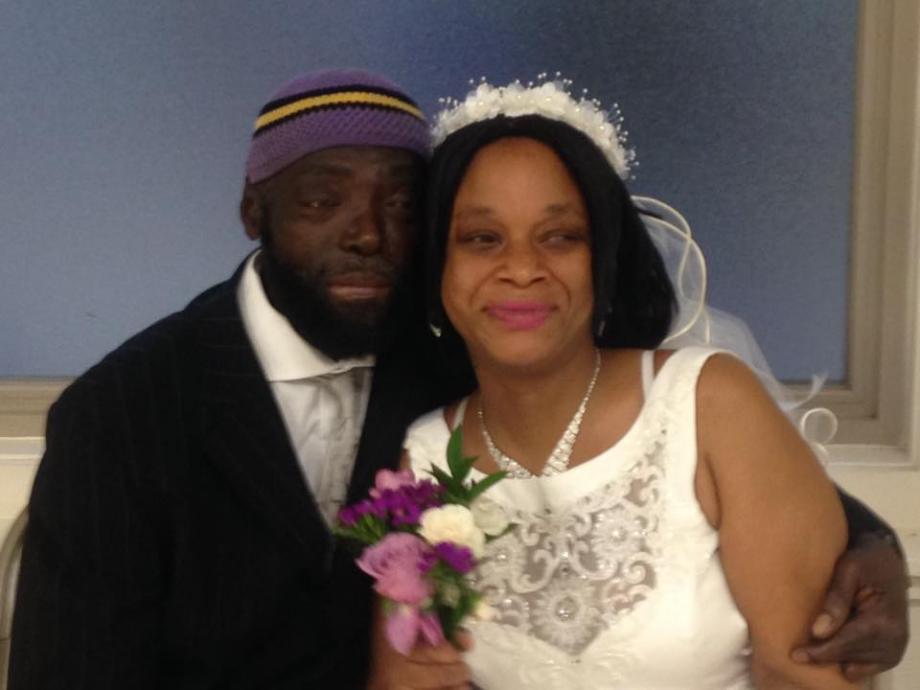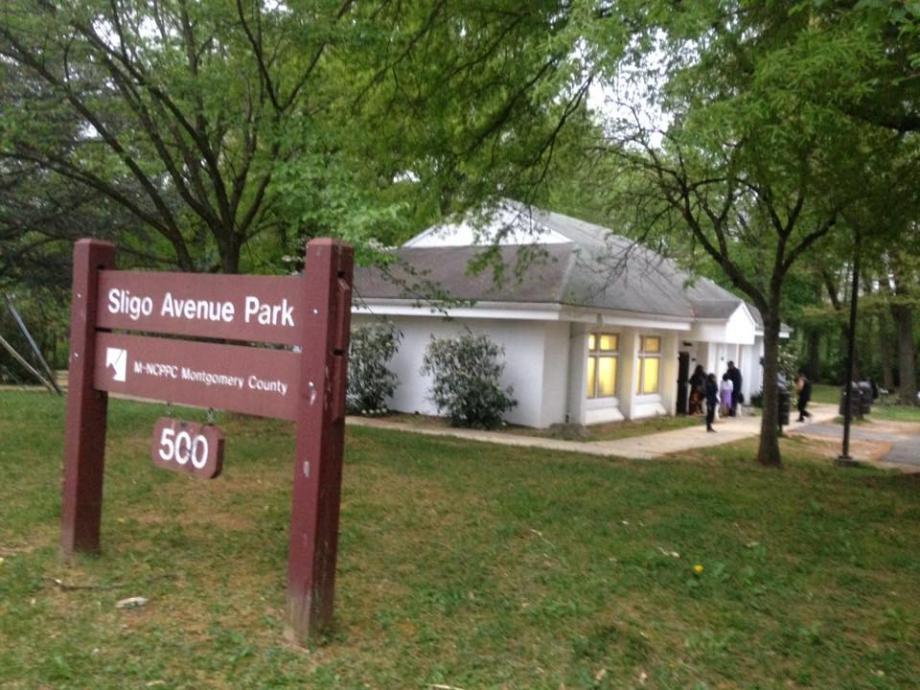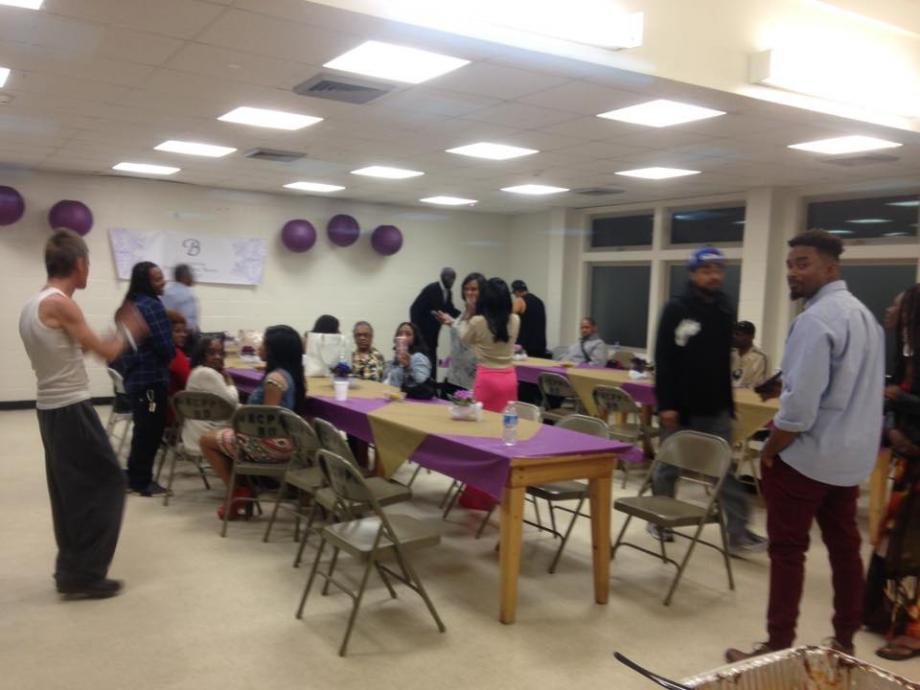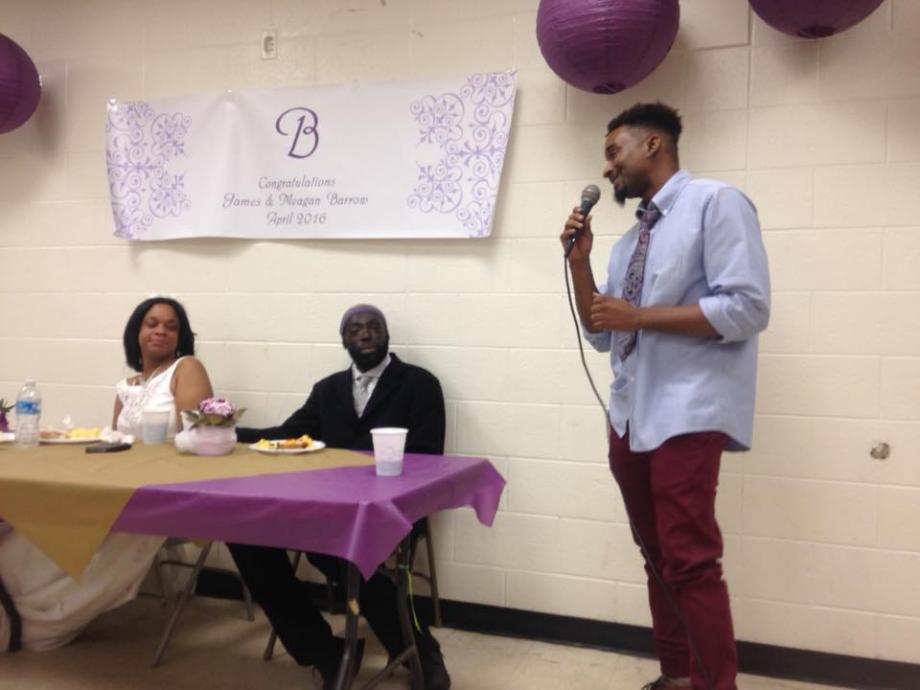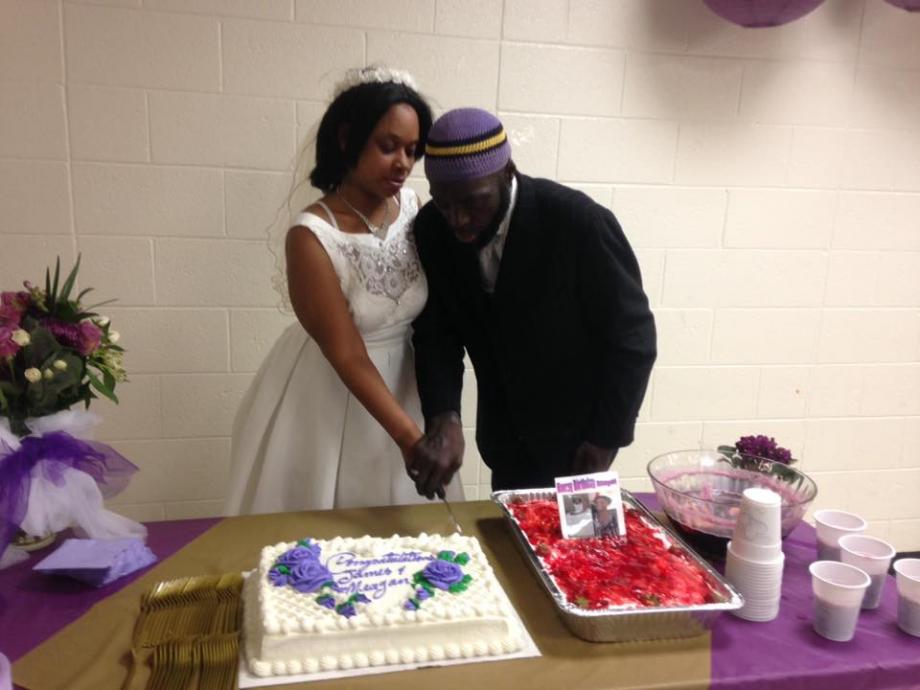 James and Meagan are married! Thanks to your giving to the benevolence fund and the legwork of Jeff & Wendy Geraci & Jen Ashby, this week James and Meagan got their wedding license, and on April 22nd, we hosted their reception. Congratulations, James and Meagan!
March 30, 2016 - We Said Yes!
DAC partners with Montgomery County Coalition for the Homeless (MCCH) because we know God's heart is for the materially poor (Isaiah 58). As part of this partnership, DAC collected furniture, household items, and food for James and Meagan, and moved them into permanent housing in October 2015. At that time, they were engaged. In March, we received a call from a MCCH caseworker, saying that James and Meagan really want to get married, and asking if we can help. After sitting down with James and Meagan again, we said, "YES!" Because of your giving to the benevolence fund, we were able to provide the funds they need for a marriage license and courthouse ceremony. We are also renting the park building right across from their apartment, and serving cake and punch at their reception on April 22.
At our last visit with James and Meagan, we noticed that they had decorated with greeting cards that had been sent to them. The cards are clearly treasured. Would you consider writing a note of blessing or encouragement to James and Meagan in a card? They can be placed in the basket on the welcome center, and we will take them to the reception. Thank you again for your generous giving and for all the ways you participate in this partnership.
December 29, 2015 - Storage Place Provided
Please continue to pray for a mom and four daughters who are experiencing homelessness. We are poised to move them into permanent housing as soon as their paperwork clears. In the meantime, all of the furniture and household items that we have collected are being stored nearby in a space provided by Montgomery County Coalition for the Homeless.
December 15, 2015 - Prayers Answered for Ismail and Family
Thank you for coming out of the woodwork to provide items for Ismail, Ebony, Raphael, and Harmony in conjunction with their move into permanent housing through Montgomery County Coalition for the Homeless's Operation Homecoming. As you know, there were some complications with the birth certificates needed for their application to the Housing Opportunities Commission. What we were not aware of was that there was also a complication regarding whether or not Ismail and Ebony were going to get back together/ stay together. When they decided not to be together, MCCH reassigned us to another family - a mom with four girls ages 7, 6, 3, and 2 months. (Mom is not a veteran, and this is through another MCCH initiative.) Then on Tuesday, December 8, Ismail and Ebony changed their decision. MCCH didn't want to change directions with us again, so they recruited another congregation to provide the needed items for Ismail et al and move them in, and this took place on Saturday, December 12.
Since we had some items specifically for Raphael and Harmony, Jen Ashby was able to take those items to the move-in (clothing, diapers, wipes, stuffed animal, rocking horse, child size chair, some of the plastic plates/ cups/ utensils). The family was not present at the move in, but the other church's team was setting everything up with the assistance of the MCCH staff.
We are anticipating moving in this mom and daughters by the end of the year (again waiting on paperwork), and what we don't have in beds for this larger family, MCCH will provide. Please be praying for both of these families, and stay tuned for more details.
November 5, 2015
God is near to the vulnerable, marginalized, and materially poor. One way we are getting aligned with His heart is by assisting a local veteran and his family get into permanent housing as we partner with Montgomery County Coalition for the Homeless. Thank you for your generosity, evidenced by the household goods collected in our worship center. Please pray for Ismail, Ebony, Harmony, and Raphael, who are living in a motel room while their birth certificates are procured and they complete their application with the Housing Opportunities Commission.
October 5, 2015 - New Home for James and Meagan!
Operation Homecoming and the move-in of veteran James and Meagan went incredibly well on Sunday, October 4. If you haven't seen the pics and heard the story, check it out on the
DAC Facebook page
. A huge thanks to the 20 DAC households who contributed items and/ or assisted with the move!
Pastor Mark and I (Jen) had an extended debrief meeting with the staff at Montgomery County Coalition for the Homeless, and became aware of an immediate and serious need. Another veteran and his family are living in a motel and MCCH is working hard to get them into permanent housing. Dad is a 32 year old veteran. He and mom have two children, a girl age 2 1/2 and boy age 16 months. Pastor Mark and I agreed that God is leading DAC to step in and help with this need. What an incredible opportunity to not only assist two adults, but to also potentially change the trajectory of these two young children's lives.
God is at work in Montgomery County! What a joy to be in the thick of it!